Christmas Sock Knitting Kit - Candy Cane
The Christmas Sock Knitting Kit includes all you need to knit a pair of socks.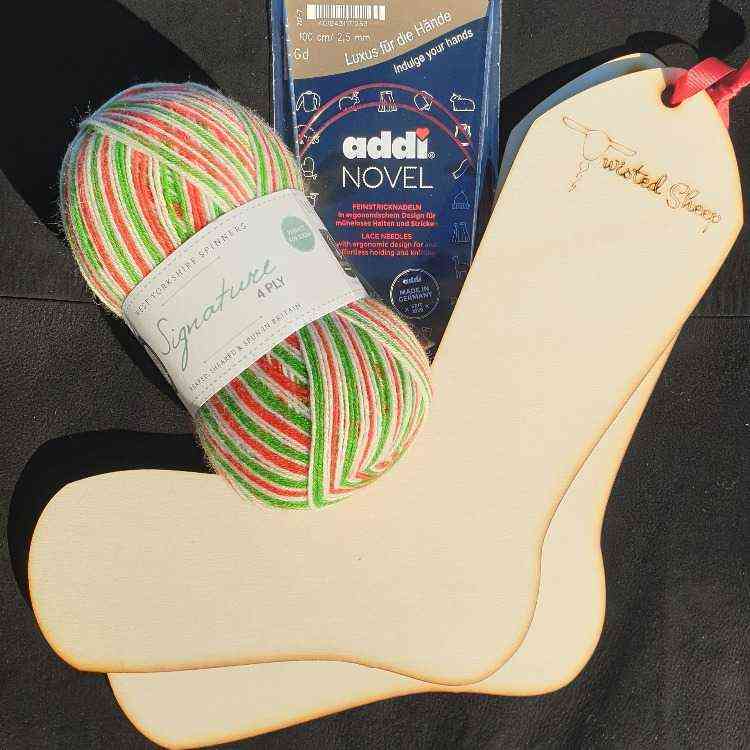 Our Christmas sock kits provide everything you need to knit a pair of festive foot-warmers to the size of your choice.
The kit contains a premium Addi Novel circular needle to knit the socks using the magic loop technique. You can change this up to include a set of CraSy Trio double pointed needles if you prefer them.
Our Christmas themed yarn comes from West Yorkshire Spinners who are UK producers of a wide range of yarns from their plant outside Keighley. Their Signature range of yarn is suited perfectly to sock knitting, containing 25% nylon for hard-wearing heels and 35% Blue Faced Leicester fleece for soft luxuriousness. The remaining 40% is yarn from other sheep breeds, including Shetland, Wensleydale and Clun Forest.
Topping off this special set is the Twisted Sheep Sock Blocker. Choose the size of foot you need for a perfect finish.
The kit includes:
Choice of Addi Novel 100 cm/2.5mm circular needle or Addi CraSy Trio 2.5mm
Set of double pointed needles.
Sock Blockers in your choice of size.
100g of West Yorkshire Spinners Signature 4 ply yarn in the Candy Cane colourway.